Main Frame Models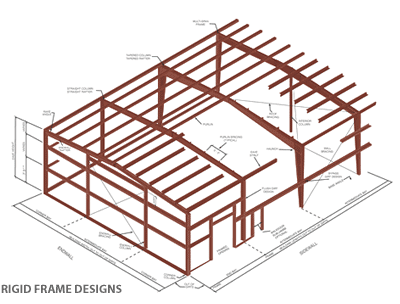 CS Clear Span
Clear Span building types have tapered columns and rafters that give superlative clear space while keeping unused interior clearances at a minimum. This frame design is often used for sports arenas or gymnasiums, riding arenas, aircraft hangars and warehouses.
MS Multi Span
Multi Span is more economical in cost per square foot for buildings over 80′ wide.  It is ideal for large commercial buildings including distribution centers, warehouses, bulk commodity storage or industrial applications.
CL Classic
Straight columns and rafters. This is ideal on smaller width buildings.

SST Single Slope
Single slope, tapered columns. Ideally suited for commercial stores.

SSS Single Slope
Single slope, straight columns. Best suited for smaller spaces to maximize interior floor space. Also commonly used when adding to an existing building.
LT Lean-To
Used to add space at sides or ends. It differs from the single slope in that it must be supported on the high side by an adjoining building column.  Typically is used to include economical interior/exterior vehicle or general storage, offices, stables for riding arenas and racking area for lumber yards.
Contact our customer service team for inquiries related to our steel buildings and components. We are based in Jacksonville, Florida, and proudly serve clients nationwide.